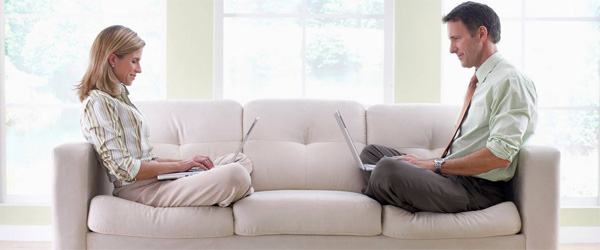 Graphic design is a diversified field which encompasses many forms of design. Whether it is identity design, packaging design, website design, or art directions; graphic design touches them all. That is the reason why many emerging talented logo designers work in multiple industries and enjoy implementing the art of one type over another. Most of them have explorative tendencies which help them grow as a creative.
The other thing that supports their artistic ventures is a life partner who understands and practices in the same industry. Once they find their other creative half, their life is magical transformed into a roller coaster of learning and growth. There comes a time when, together, they reach a state of creative nirvana.
America has produced many notable graphic designers and many of them are hitched with wonderful people. Some of the most prominent couples, who have made headlines, are going to be featured in our post today. We have thoroughly enjoyed their work and feel happy to recommend them to anyone searching for quality design work both locally or internationally. All the couples selected for this article come from various US States. New York, as expected, comes out on top for an abundance of professional designer couples. Clients from other states don't have to worry, though. We have found you some amazing duos all over the US.
1. Armin Vit & Bryony Gomez-Palacio
State: Austin, Texas
Armin Vit And Bryony Gomez-Palacio
Armin and Bryony couple comprises of two talented graphic designers, working from their spacious 2,000 square-foot UnderConsideration headquarters. They are currently busy partnering on six different ventures which are: Speak Up, Brand New, Quipsologies, The Design Encyclopedia, Word It, and FPO. Their company also runs a Department of Design that serves clients and the organization's design needs. For them being a designer couple is simply awesome. It means not being alone in the craziness.
2. Paula Scher and Seymour Chwast
State: New York
Paula Scher And Seymour Chwast
Image Courtesy: Print Mag
Paula Scher is a huge name in the graphic design industry. She is a partner of Pentagram and Seymour's fascinating work can be found at the Pushpin official website. The gorgeous couple first met in 1970 when an art director, Harris Lewine, set up an interview between Paula and Seymour at Pushpin. When asked if they ever collaborate, they simply refused. Giving an interview to Print Mag, they said, "We can't collaborate at all. It's a total disaster." But it never stops them from seeking design feedback from each other.
3. Ellen Lupton & Abbott Miller
State: Baltimore, Maryland
Ellen Lupton And Abbott Miller
Ellen Lupton is currently the director of the Graphic Design MFA programme at MICA, Baltimore. She is also the curator of contemporary design at Cooper-Hewitt Museum. Abbott Miller, on the other hand, is a partner at Pentagram. Together, they have worked on different art exhibitions and co-authored books, including "Design Writing Research." Abbott's primary office happens to be in New York while Ellen mainly works from the home office. But, she frequently travels with her husband and Abbott, too, works from home when not in New York.
4. Gael Towey & Stephen Doyle
State: Greenwich Village, New York
Gael Towey And Stephen Doyle
Gael and Stephen's is the impressive duo of two creative geniuses. Gael helped establish the Martha Stewart Brand while Doyle came up with his own incredible design studio Doyle Partners. While they both have been steadfast in their respective fields, each partner takes great pride in acknowledging the positive influence the other one has had on his or her work since the happy union.
5. Ana & Derek Warren
State: Ann Arbor, Michigan
Anna And Derek Warren
Anna and Derek run the Arbor Printing and Design business in Ann Arbor, MI. Their company specializes in conjuring out of the box graphics, small quantity Digital Printing, and Website design. They have worked extensively in Web development and User Interface Design. However, they are locally more recognized as a Printing company.
6. Rudy VanderLans and Zuzana Licko
State: Berkeley, California
Rudy VanderLans And Zuzana Licko
Image Courtesy: artbusiness
Two Europe-born individuals who met at the University of California, Berkely, soon felt that their real interest revolved around Graphic design, and not in architecture or photography; subjects that they had undertaken at the time. It happened more than 23 years ago and the couple now runs a home-based business known as Emigre Inc. They also own a small warehouse from where they fulfill orders for the Emigre products such as prints, T-shirts, ceramics, etc.
7. Megan & Ryan Henderson
State: Denver, Colorado
Megan And Ryan Henderson
In their own words, Megan and Ryan are a "zombie-loving, rock-climbing, tag team duo." They also happen to be amazing graphic designers and web developers. They run a mutual business Henderson & Co. where
https://www.designmantic.com/blog/8-compatible-designer-couples-from-united-states/

(

0

لایک)